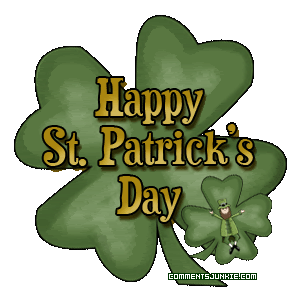 Top of the mornin' to ya!
No really, it's 10:28 pm and I'm about to hit the sack, so it's not really morning. But Happy St. Patrick's Day regardless! We did nothing to celebrate- heck, we didn't even WEAR the color green! If I was on top of things I would have cooked an irish meal, worn green, and read the story of St. Patrick. Oh well!
B's been really struggling this week. Jon and I made an executive decision two days ago and took him off the antibiotic he was on for his ear infection. Our guess is that the antibiotics are ripping up his stomach. We'll see if our guess is correct! I really hate to sound like a broken record, but he's pretty much non stop whiney/wants to be held for a while now and it's getting tough. We've seen a little improvement today so maybe we were right. . . who knows. Parenting is hard. I know, I'm a philosopher, what can I say.
But we did have a GOOD day today. The key to survival during these days is keeping him distracted and getting out of the house. This morning we ran errands, then he took a morning nap. Then we went to The Met to visit Jon and his co-workers and shopped at a children's consignment store. Came home, put him down for an afternoon nap (too short, dont' know what happened with that), and went and played outside at the park til Jon came home. This weather is pretty much amazing- 70's all week. Love it.
My husband's tired. He's lying on the bed whining right now. Apparently there are TWO whiners in this house. :) Gotta go..